Research Hint: Sign-in to "Get It" Delivered
The Libraries' website allows you to request items online, but you must be signed-in to do so. If you access the website from off-campus — whether you're a UTK-affiliated user or non-UTK user — you will not be able to see the full range of One Search results unless you sign-in prior to conducting your search.
Download a PDF of this
research hint here.
[clear]
We recommend that all users begin a search by signing in, using the Off-campus users: Sign in button on the library homepage.[clear]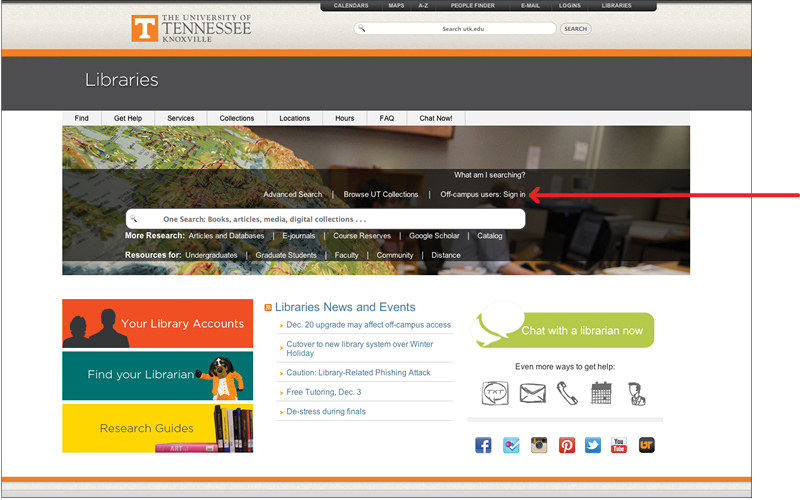 [clear]
Enter your search in the One Search box.[clear]

[clear]
Results that display within the Get It tab are items available for either delivery or pickup.[clear]


[clear]
Failed to sign in? Click Sign-in for more options.[clear]


[clear]
Then request delivery of the Physical Item or a PDF Scan.[clear]


[clear]
To pick up the Physical Item at one of our libraries, select a Pickup Location. UT faculty, graduate students, and staff may request Personal Delivery to a Work Address (i.e., department's main office).[clear]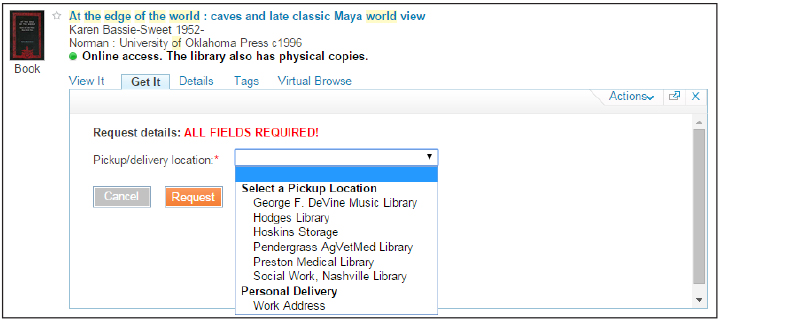 [clear]
To have a PDF Scan delivered to your email, note the page numbers to be scanned from the article or book chapter.[clear]


[clear]
(More hints: How to expand your search results.)
[clear]