"The Fishes of Tennessee" Now Online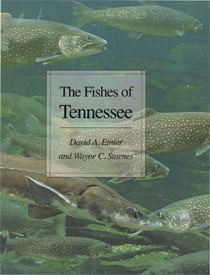 The waters of Tennessee are home to about three hundred species of fishes, the most diverse collection of freshwater fauna of any state in the country.
Ecologists David Etnier and Wayne Starnes have documented Tennessee's diversity of ichthyoid species in The Fishes of Tennessee, first published by the University of Tennessee Press in 1993. To accommodate requests for the popular textbook, which is currently out of print, UT Press and Newfound Press have made The Fishes of Tennessee available online.
David Etnier is professor emeritus of ecology and evolutionary biology at the University of Tennessee, Knoxville. Wayne Starnes is curator of fishes and director of the research lab at the North Carolina Museum of Natural Sciences.
The readable and authoritative Fishes of Tennessee was the first comprehensive study of the state's fishes. Species accounts provide information on the classification, identification, biology, distribution, taxonomy, and current status of Tennessee's fishes — many of which are endangered. Taxonomic keys provide readers with guides for distinguishing species. High-quality photographs, range maps, and drawings make identification and study a pleasurable experience.
The volume has been touted as one of the most detailed and comprehensive regional ichthyofaunal guides available. Its publication online by UT's Newfound Press (newfoundpress.utk.edu) is a boon to all biologists, anglers, and nature enthusiasts.