University of Tennessee Libraries Digital Press Releases New Title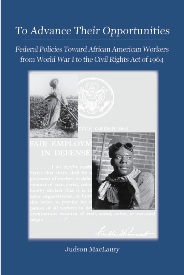 Newfound Press, digital imprint of the University of Tennessee Libraries, published a new monograph, To Advance Their Opportunities: Federal Policies Toward African American Workers from World War I to the Civil Rights Act of 1964 by Judson MacLaury on Labor Day 2008. Newfound Press, an open access publisher, hosts titles at www.newfoundpress.utk.edu.
Judson MacLaury, a retired historian for the U.S. Department of Labor, chronicles the evolution of federal policies and programs impacting African American workers before the Civil Rights Act of 1964 made racial discrimination in the workplace a violation of the law. MacLaury examines the fascinating and little-noticed workings of federal bureaucracies as they attempted to rein in racism in the nation's federally funded workplaces.
Tracing hard-won gains made by African American workers—the civil rights movement and its supporters had a crucial role in urging the federal government to action—the book fills a gap in the literature as MacLaury synthesizes primary documentation and rich secondary sources to reveal the development of anti-discrimination programs by the executive branch and expose some of the roots of affirmative action.
Useful to scholars but accessible to all, To Advance Their Opportunities is an engaging portrait of the role of government in fostering a color-blind society of equals. In the book's Foreword, former U.S. Secretary of Labor, Ray Marshall, writes: "Judson MacLaury's detailed study of efforts to reduce discrimination against African Americans is important because it teaches the kinds of actions and leadership required to combat the deadly effects of discrimination against people for reasons unrelated to their personal merit."
Newfound Press seeks innovative approaches to the creation and dissemination of scholarly and specialized work. Extending the boundaries of traditional publication practices, Newfound Press publishes peer-reviewed content that merits wide dissemination and preservation, but is unlikely to be published by a traditional press because of narrow focus or innovative format.
To Advance Their Opportunities and other Newfound Press book titles can be read online at the Newfound Press web site at www.newfoundpress.utk.edu. Print-on-demand service through the University of Tennessee Press will be available soon.