Newfound Press publishes Arthur Vidich Autobiography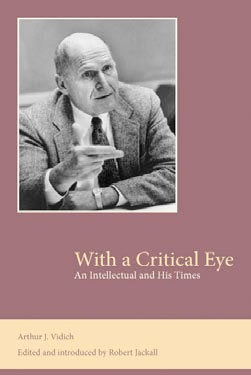 The UT Libraries' online imprint, Newfound Press, has just published the autobiography of internationally renowned sociologist Arthur Vidich.
Arthur J. Vidich (1922-2006) was an active researcher and teacher whose career spanned the second half of the twentieth century. With a Critical Eye: An Intellectual and His Times recounts Vidich's career in the wider cultural context of his life and work. Providing a window into post-World War II intellectual life, the richness of the autobiography lies not only in Vidich's perspectives on the academic world, but also in his personal and sociological observations about the world around him.
Best known for his book Small Town in Mass Society (co-authored with Joseph Bensman, 1958), Vidich taught for more than forty years at the New School for Social Research in New York. He published eighteen books, co-edited a book series with Robert Jackall, and was the founding editor of the International Journal of Politics, Culture, and Society.
Robert Jackall, Willmott Family Professor of Sociology and Public Affairs at Williams College and editor of the autobiography, focuses his introduction on "Vidich's stance as an outsider, a habit of mind initially fostered by his family's social situation and later embraced by him as essential for the kind of understanding he wished to achieve and impart to others."
Vidich "provides a valuable lens … on a profoundly important time in the formation of the modern social sciences, when the changes in the U.S. were having formative impacts on academe in other parts of the world," writes Robert J. Antonio, professor of sociology at the University of Kansas. "The autobiography is lucidly and unpretentiously written."
Newfound Press, a peer-reviewed digital imprint of the University of Tennessee Libraries, seeks innovative approaches to the creation and dissemination of scholarly and specialized work. With a Critical Eye: An Intellectual and His Times and other Newfound Press publications are freely available online at www.newfoundpress.utk.edu, and printed copies may be purchased from University of Tennessee Press via the website.