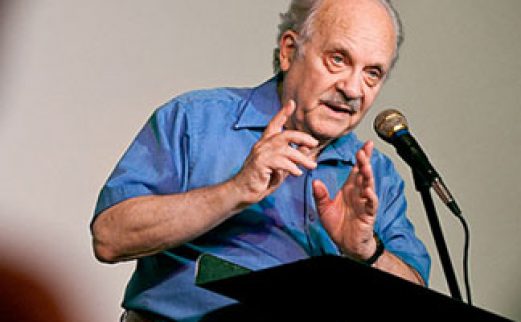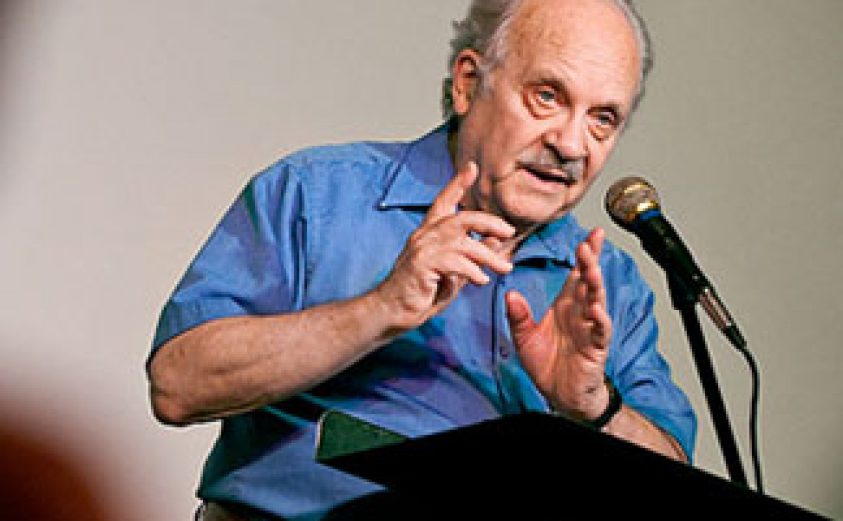 David Madden: Introduction to a "Person-of-Letters"
In 2014, UT Libraries acquired a treasured archive: the work of David Madden, acclaimed novelist, screenwriter, playwright, critic, poet, and short story writer. Madden's archive contains not only the records and drafts of his own immense body of work but also correspondence that charts out something like a literary family tree of the last half century: Norman Mailer, Anaïs Nin, Walker Percy, Eudora Welty, Gore Vidal, Katherine Anne Porter, Wallace Stegner. Madden called them friends, colleagues, and peers.
Madden's work is also a matter of local pride—his birthplace is Knoxville. It's only fitting that it should find a permanent home in Knoxville at the University of Tennessee, where so many of his roots—both biographical and literary—are to be found.
Madden's Career of Achievements
"When I was a kid," Madden explained in a 1974 interview, "I took the attitude that anything I would do in life would be done in a creative manner, that any situation in life should be fraught with all kinds of possibilities for creative responses, and I have to be alert to them and when I sense them, then I respond with as much creativity as possible."
Through this creative vision, Madden has become what George Garrett has described as an increasingly endangered species in our "age of rigorous specialization." Madden is, as Garrett says, a true "person-of-letters," placing him squarely in the same tradition of multitalented southern writers as Poe, Faulkner, and Robert Penn Warren.
Madden's extensive oeuvre includes novels, short stories, poems, plays, screenplays, literary studies, textbooks, and libretti. When Madden spoke to the Library Society in the spring of 2015, he mentioned eight works in various stages of completion, including several novels, a musical set in Montmarte Cemetery, and a treatise on the mind's creative capabilities.
Born to be a Storyteller
David Madden was born in Knoxville in 1933. He reports having first learned about storytelling from his grandmother, who lived in the mountains of East Tennessee. "She was a master of the oral tradition," Madden has said. "She'd tell the same stories over and over and I'd never get tired of them."
Not surprisingly, his own experiments with storytelling began when he was still young.
"Among his proudest boasts," wrote an early observer of Madden's work, "is that he was expelled from public school some ten or eleven times for writing stories." This punishment, if that's what it was, seems not to have stuck. At sixteen, Madden wrote his prize-winning first play, Call Herman in to Supper, which went on to be produced and staged at UT's Ayres Hall. Madden then went on to write his first novel, set in the slums of Knoxville, when he was only nineteen.
In 1951 Madden returned to UT, the site of his theatrical debut. It's hard to believe, given his already intimidating CV, that he was enrolling as a mere freshman. His initial stay on campus, however, was brief: two years later he departed to serve in the Merchant Marines. But in 1955, he returned to UT. After graduating two years later, he went on to earn his MA in creative writing from San Francisco State University. In 1959 he was awarded a John Golden fellowship to Yale Drama School.
A Literary Path
Madden's literary path would eventually lead to illustrious academic posts, publications, and awards that would send the author around the world, from Venice to Istanbul to Yugoslavia. But Madden's biography also includes a few less glamorous—though nonetheless formative—experiences along the way. He worked as a mail clerk, a gas-station attendant, an elevator operator. And when he was thirteen years old, as fate would have it, Madden became an usher at the Bijou Theatre in downtown Knoxville. This job ultimately laid the groundwork for his autobiographical 1974 novel, Bijou.
This wasn't the last time Knoxville would claim its rightful place in David Madden's imagination. He would return to Knoxville in later books, too, such as Pleasure-Dome, The Shadow Knows, and his celebrated Civil War novel, Sharpshooter.
But Knoxville has not been Madden's only muse. His first novel, The Beautiful Greed, inspired by his experiences as a merchant marine, takes place largely in Chile. His most recent novel, London Bridge in Plague and Fire, transports readers back to seventeenth-century England.
Madden's other books include the Pulitzer Prize–nominated The Suicide's Wife (which was made into a CBS movie of the week) and such critical works as The Poetic Image in Six Genres, Touching the Web of Southern Novelists, and book-length studies of American novelists James M. Cain and Wright Morris.
Madden himself deservedly became the subject of similar project in 2006, when the University of Tennessee Press published David Madden: A Writer for All Genres. The book honors and examines Madden's contributions as a poet, critic, and writer.
Wonder and Awe for Knoxville
Fittingly, the collection also includes an examination of Madden's relationship to Knoxville. As Jeffrey Folks writes in an essay on Madden, James Agee, and their mutual birthplace, "For Madden [Knoxville] seems controlled not by mystery but by wonder and awe at what life has afforded, especially the complex social relationships that he finds in his local place."
"My infatuation with my hometown," Madden himself has said, "is similar to Thomas Wolfe's with Asheville, and like Wolfe I look homeward but live elsewhere." Some of those adopted homes have included Kentucky, Ohio, Louisiana, and currently Black Mountain, North Carolina.
But in securing David Madden's archives, UT Libraries now possesses a body of work spanning sixty years of creative inspiration. We can proudly say we have given it a permanent home.
__
Adapted from Christopher Herbert, from the Library Development Review 2014–2015
Christopher Hebert was the Jack E. Reese Writer in Residence at the UT Libraries from 2012 to 2016.