Upcoming Events: Old-Time Musician Dom Flemons, Author David Madden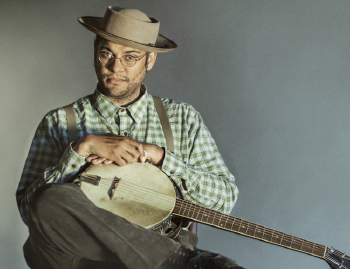 You're invited to join the Library Society of the University of Tennessee and the Friends of the Knox County Public Library for an evening with Dom Flemons, the American Songster, on Thursday, March 12, at 7:00 p.m. at the Bijou Theatre. The event is free and open to the public. But, due to high demand, registration is required — at http://www.knoxfriends.org.
Flemons will present this year's Wilma Dykeman Stokely Memorial Lecture. His performance will be a lecture/demonstration of the history of old-time folk music and its relevance in today's diverse musical world, with commentary and musical examples as appropriate.
Flemons is widely known for his role in reintroducing the old-time African-American string band music, made famous by groups such as the Tennessee Chocolate Drops, to a new generation. Flemons left the Carolina Chocolate Drops in July 2013 to pursue a solo career. His solo album Prospect Hill was released in July 2014. He was featured on Fresh Air with Terry Gross in July and on Folk Alley Presents in September. His album was one of Folk Alley's Top 10 Folk and Americana Albums of 2014.
Flemons also will be the featured performer at the Annual Conference of the Society for Ethnomusicology hosted by the UT School of Music. His performance at 1:30 p.m. on Friday, March 13, at the Natalie L. Haslam Music Center will be free and open to the public, although seating is limited.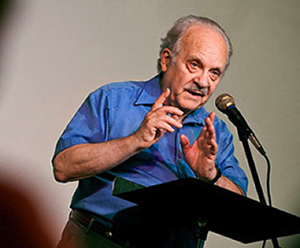 Novelist, poet, playwright, essayist, and critic, David Madden will be honored at a reception and lecture hosted by Libraries on Tuesday, April 7, at 5:30 p.m. at UT's McClung Museum.
Madden's novels include Cassandra Singing, Bijou, The Suicide's Wife, Abducted by Circumstance, and London Bridge in Plague and Fire. His most recent work, The Last Bizarre Tale, consists of stories that have appeared in journals but have not appeared together as a collection. The title story, "The Last Bizarre Tale," involving a corpse that has hung on a hook in a funeral home garage for decades, is evocative of Poe and, in its dark, grotesque humor, Flannery O'Connor and Carson McCullers. "Process is as important as product to David Madden," writes editor James Perkins, "and one can learn as much about the process of writing as about the human condition by a careful reading of these stories."
David Madden is a Knoxville native and a graduate of the University of Tennessee. He earned an M.A. at San Francisco State and attended Yale Drama School on a John Golden Fellowship. Writer-in-residence at Louisiana State University from 1968 to 1992, Director of the Creative Writing Program 1992-1994, and Founding Director of the United States Civil War Center 1992-1999, he is now LSU Robert Penn Warren Professor of Creative Writing, Emeritus.