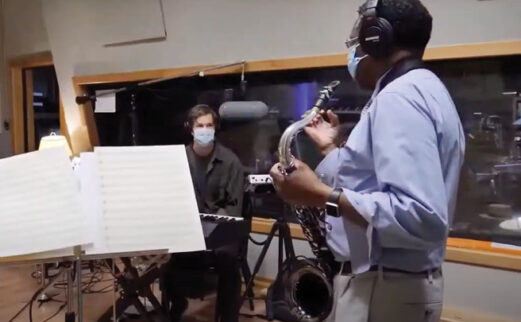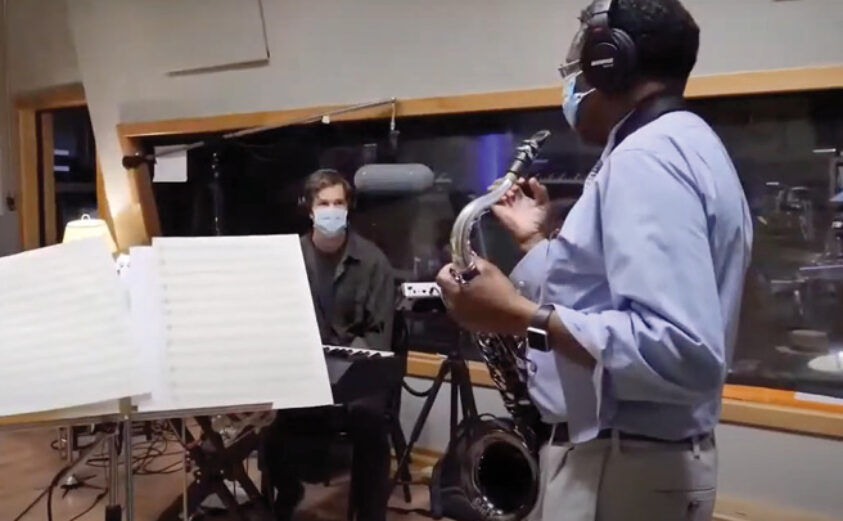 All I Have to Give: An Evening with Musician Marcel Holman
Knoxville musician Marcel Holman was the featured artist at a livestream event on November 19, 2020. The event showcased the debut performance of two songs inspired by the letters of a soldier to his sweetheart, sent from the front lines of the War in Vietnam. Holman's original compositions were commissioned by the UT Libraries as part of a program called Boundless: Artists in the Archives.
The Boundless program highlights the cultural and research value of the UT Libraries' special collections by commissioning musicians and other artists to explore our archives and to translate their insights into the language of their craft.
When we invited him to participate in the Boundless program, Holman — himself a veteran of the Vietnam War — chose to delve into some of the soldiers' memoirs and wartime correspondence preserved in the Betsey B. Creekmore Special Collections and University Archives. There, he discovered a cache of letters written by a soldier deployed to Vietnam, Dannie Arthur Carr, to his high school sweetheart back in Sevierville, Tennessee.
In composing his songs, Holman drew on those letters. "[Dannie Carr] was writing his sweetheart a letter every three to four days," Holman told our audience. "On [July 2] of the year of his tour, that was the last letter that he wrote. And he was telling her that he was hoping that he could spend time with her and do all the things they wanted to do together.… It was really touching.… July 2 was the day of his last letter. And, sadly, on July 3rd, he lost his life in combat.… That was the major inspiration for 'All I Have to Give.'"
Introducing his second song, Holman explained, "I thought I would write another composition that would not necessarily be as melancholy as that. I wanted to write something that gave a ray of hope even though the situation was dire and you were in combat… Never let go of hope. So, the title of this is 'Never Gonna Let It Go.'… It's talking about the hope of humanity. Even though things may be dark … look for the ray of sunshine or the sunrise or the hope to come."
The live interview with Holman was interspersed with video recorded studio performances. For the studio recordings of his songs, Holman called on vocalist Jeanine Fuller and other seasoned Knoxville musicians who are likewise fluent in R&B and jazz: Sam Adams on piano, Joe Jordan on trumpet and flugelhorn, Karen Kartal on violin, Kevin Krapf on drums, and Matt Nelson on bass. Holman played tenor sax.
Although Holman is an accomplished saxophonist and flutist, he thinks of himself as primarily a composer and arranger. Nonetheless, as evidence of his talents as a performer, one only has to name a few of the dozens of legendary artists with whom Holman has performed and recorded since the 1970s, including B. J. Thomas, Peaches and Herb, Ben E. King, The Bar-Kays, The Temptations, The Four Tops, The Platters, Martha and the Vandellas, Chuck Berry, Lou Rawls, and Nancy Wilson.
During the Q&A with our audience, Dean of Libraries Steve Smith asked Holman, "Have you ever used letters or historical artifacts to inspire your songwriting before? How did this project differ from your normal writing process?" According to Holman, "It didn't differ very much —because, normally, I listen to things around me, then I formulate compositions according to my environment, whatever I'm hearing or seeing or involved in."
What felt strange was stepping into the role of songwriter. "I'm not writing lyrics every day. I prefer to stick to the music — the harmonies and melodies," he told music librarian Chris Durman, who along with Ingrid Ruffin, head of the UT Libraries' Learning Commons, interviewed Holman.
Another highlight of the evening was a video presentation of "Lord, Bless the Weary Soldier in Vietnam," recorded by Holman's aunt, Clara Anderson, and her group, the Harps of Melody, during the Vietnam War. The performance is illustrated with photographs of members of Holman's extended family who served in the military, along with photos from Holman's own service in Vietnam. During the Vietnam War, Holman and his bands, the Ace Trucking Company and Second Helping, performed for troops who were deployed to fire stations on the front lines.
Asked about the personal significance of the song, Marcel Holman said, "Clara, my aunt… was a great inspiration for me in my early years in music. She had me promise her that I would help to keep that music alive and keep the memory of the style that she and her group performed."
In addition to an impressive career in music, Marcel Holman retired in 2008 from a 30-year career with the U.S. Postal Service. He is now pursuing a master's degree in cellular and molecular nutrition at UT.
Our evening with Marcel Holman was the third musical performance in the Boundless: Artists in the Archives series.
The event was sponsored by the John C. Hodges Society of the University of Tennessee Libraries and the UT Veterans Resource Center. Watch the complete broadcast on the UT Libraries' YouTube channel or below. Explore previous Boundless artists and their works by visiting our dedicated Boundless page here.