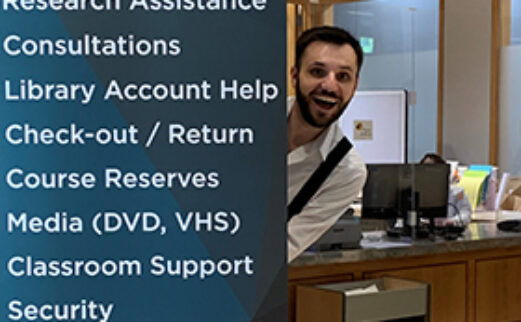 UTK Libraries Tour: The Musical!
To welcome new and returning Vols to the fall semester, we proudly present the UTK Libraries Tour: The Musical!
If you visited any of our branch libraries during the first week of August, you may have heard a curious sound: the stacks were filled with librarians singing! Check out the video below:
Creating the Musical
Ethan Graham Roeder and Kathryn Shepas, both DeVine Music Library supervisors, are the songwriters and two of the performers behind the musical tour. Both have a background in theatre and vocal performance. "Kate and I started by thinking through some of the catchiest classic songs we knew, and then took the list of services collected by the library staff and started making the syllables fit to the music," Roeder said. "We go from tongue in cheek, to witty, to silly, and to heartfelt."
The madcap musical tour visits Hodges Library, the DeVine Music Library, and Pendergrass Agriculture and Veterinary Medicine Library.
"Even though we threw the video together with very little rehearsal time, library staff and our student assistants were game to jump in and try whatever we asked them, whether that meant walking backwards through the stacks holding a guitar to running after a book cart lip syncing to wild voices," Roeder said. Shepas added, "I think all involved felt connected to the libraries, and it added joy to their work life!"
UTK Libraries Resources and Services
The goal of the video is not just to introduce students to the library buildings but to make them aware of all that UTK Libraries has to offer. "I hope the students know that our library spaces are welcoming, and that they have a ton of services available to them," Shepas said, and Roeder added, "I hope all students think of the library as a first stop for anything they might need to succeed at UTK."
Other contributors to the video included Shelly O'Barr (camera/editor), Trey Hobson (lyricist/performer/audio editor), Chris Durman (performer), Doug Engle (performer), Cathy Jenkins (library cart driver extraordinaire), Christine White (project manager and expert waver), DeVine Music Library student assistants, Pendergrass Library student assistants, UT Libraries marketing and communication student assistants, and numerous members of the UTK Libraries faculty and staff.
—
Need library assistance? Visit lib.utk.edu.