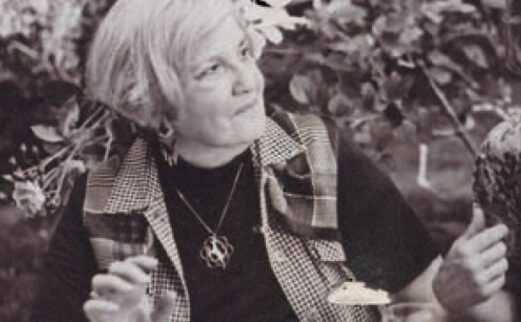 In Celebration of Marilou Awiakta
Marilou Awiakta is an award-winning poet, storyteller, essayist, and environmental advocate whose work draws on her Cherokee ancestry and Appalachian roots. On Thursday, June 3rd, at 6:30 p.m., the UT Libraries and the McClung Museum of Natural History and Culture will host a virtual event celebrating Awiakta's life and work. The livestream event is free and open to the public.
UT Knoxville Alumnus Marilou Awiakta was one of ten women chosen from Tennessee and 500 nationwide for USA TODAY'S Women of the Century commemorating the 19thAmendment's 100th anniversary giving women the right to vote. Recognizing women who helped change and are still changing America, Dolly Parton and Pat Summitt represent some of Tennessee's notables, while nationwide examples include Ruth Bader Ginsburg and Oprah Winfrey.
Her work has influenced change at local, national, and international levels for cultural diversity, protection of the environment, women's rights, and civil rights.
Awiakta's writing weaves her Cherokee and Appalachian heritages with her experience of growing up during the nuclear era in Oak Ridge, Tennessee, to address both current issues and the interconnectedness of all living things. The poems in her first book, Abiding Appalachia; Where Mountain and Atom Meet (1978) blend Cherokee history with the author's memories of growing up in the top-secret city that produced the atom bomb. Her 1983 children's book, Rising Fawn and the Fire Mystery, tells the story of a young Choctaw girl swept up in the Indian removals of the 1830s. In Selu: Seeking the Corn Mother's Wisdom (1993), Awiakta uses poems, storytelling, and essays to apply Native American philosophy to the problems facing humanity.
Awiakta's awards and honors include the Distinguished Tennessee Writer Award, the Outstanding Contribution to Appalachian Literature Award, and the Appalachian Heritage Writer's Award. She has been featured in the PBS film Telling Tales and in Appalshop's program for National Public Radio, Tell It On the Mountain: Women Writers of Appalachia. Awiakta is a 1958 graduate (magna cum laude) of the University of Tennessee.
Awiakta recently donated her papers to the Betsey B. Creekmore Special Collections and University Archives, adding a new and distinct voice to the UT Libraries' primary materials on Appalachian and Cherokee culture. We are grateful to her for entrusting them to UT Libraries and look forward to celebrating her life and work at this upcoming virtual event.
—
Awiakta's books Selu: Seeking the Corn Mother's Wisdom and Rising Fawn and the Fire Mystery are available from Amazon. Orders for Abiding Appalachia: Where Mountain and Atom Meet can be directed to aleex@marketingtn.com.