Congrats to Spring 2023 Graduating Library Student Workers!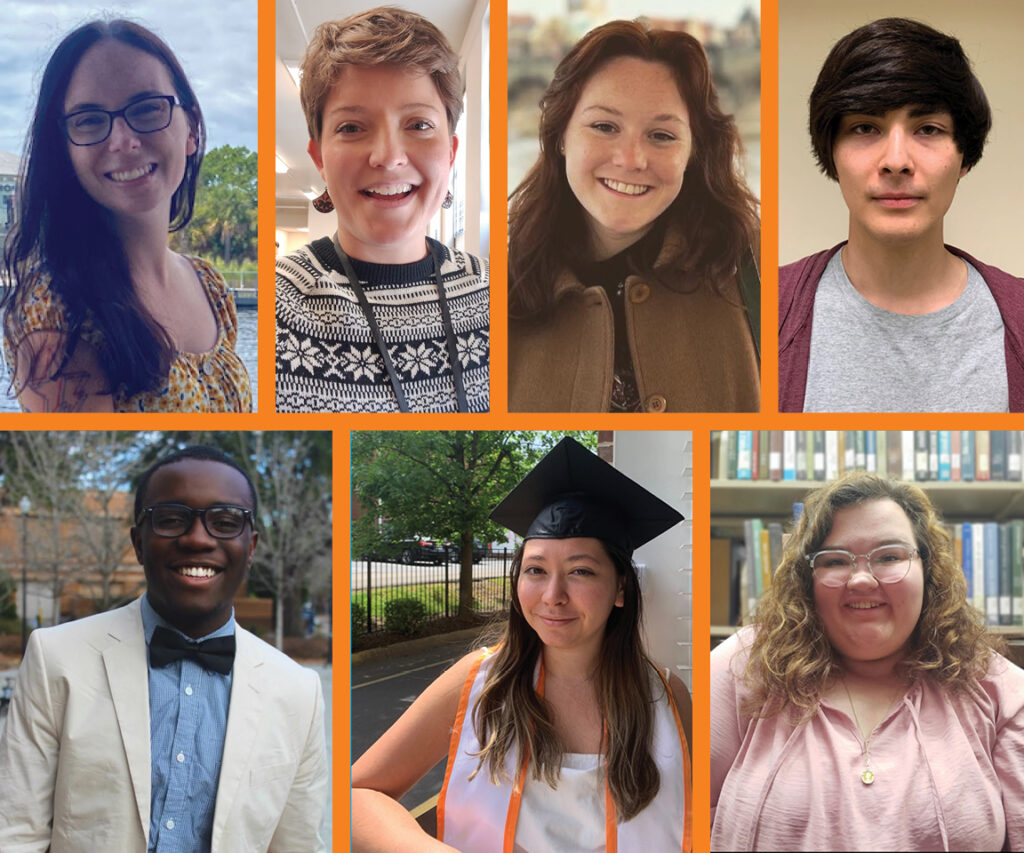 Spring graduation ceremonies at the University of Tennessee take place May 18-20. UT Libraries takes the opportunity to recognize library student assistants who are graduating this semester and to celebrate their hard work and accomplishments.
Drew Borucki: Borucki is graduating with a Master of Science in Social Work with a certificate in Trauma. As a graduate student library assistant, she worked for two years in the Libraries' Virtual Anatomy Lab. During this time, she also gained professional experience at the Tennessee Department of Correction's Day Reporting Center, where she worked with incarcerated individuals who struggle with substance use disorders. After graduation, Borucki hopes to work as a social worker in the criminal justice system and continue helping those from vulnerable populations.
Bethany Ledyard: Ledyard will graduate with a Master of Science in Information Sciences. During her time in the MSIS program, she worked at Hodges Library in Public Services, the Virtual Anatomy Lab, and the Scholars Collaborative. Her studies have focused on K-12 school librarianship, and next year she plans to be a library media specialist at a public middle or high school in Knoxville. Ledyard said that working in several different areas within the UT Libraries has broadened her understanding of what a library can be. She could not be more grateful for her mentors and coworkers in Hodges, who have all taught her many things about librarianship and made her even more excited to enter the field.
Maggie Lingle: Lingle is graduating with a Bachelor of Arts in History. As a student library assistant, she split her time between the Libraries' Administration and Human Resources Office and the Business Services Office. "Maggie possess many qualities of an excellent SLA and overall is a great person to work with," her supervisor said. "And we have been lucky to have her on our team!" Lingle has been accepted to the master's program at UT's Haslam College of Business and, beginning in the fall, will pursue the Master of Science in Management and Human Resources.
Daniel Maynard: Maynard will graduate from the Asian Studies program with a Bachelor of Arts in Interdisciplinary Studies. Japan was his area of concentration, and following graduation he will be moving to Japan to teach English. Maynard, who worked as a student library assistant at Pendergrass Agriculture and Veterinary Medicine Library, said, "What I've enjoyed about working at the Pendergrass Library is the atmosphere and the people I work with. Because it's a library, it's a very calm environment, which makes it easy for me to focus on my job and not get stressed, and all of my co-workers and supervisors are super easy to get along with."
Eleanor Prescott (Photo not provided): Prescott will receive a bachelor's in environmental and soil science. She minored in watershed management, and following graduation she will assume a position as a stormwater specialist for the Indiana Department of Transportation, working to reduce water pollution and soil erosion. Prescott worked at the equipment checkout desk in the Commons at Hodges Library. "I have loved the people I've met working at Hodges Library," she said. "I could not have asked for a better job for my last two years of college. I will miss this place and these people immensely."
Shaquille St. John: St. John will graduate with a Master of Music in Voice Performance from UT's School of Music. Following graduation, he will be relocating to Atlanta, Georgia, where he will work as a staff singer at a local church while awaiting final word on several exciting full-time job opportunities. While studying at UT, he has served as a student library assistant in the George F. DeVine Music Library. "I have enjoyed working in the music library the past two years because I have gotten to learn so much about the amazing resources our UT Libraries provide for our community of students," St. John said. "It has also been a pleasure getting to know patrons that come into the music library regularly!"
Lilly Weir: Weir is graduating from the Haslam College of Business with a Bachelor of Science in Business Administration. She majored in supply chain management with a collateral focus in leadership. As a student library assistant, she worked at the equipment checkout desk in the Hodges Library Commons. "I've loved my coworkers, and they have made the space so special," she said. "I'm not sure where I will land, but I'm excited to start my new journey. I'm so grateful for the University of Tennessee and Hodges Library."
Mikayla Wood: Wood worked as a student library assistant in Teaching and Learning Programs. Following award of the Master of Science in Information Sciences she will begin her new position as STEM Librarian for Engineering at the UT Libraries. "I've really enjoyed working with students and helping them achieve their educational goals," she said. "I've loved providing instruction and research assistance. I very much enjoyed collaborating with my TLP colleagues and others in the library on various projects!"