Art of Joseph Delaney on Exhibit at Hodges Library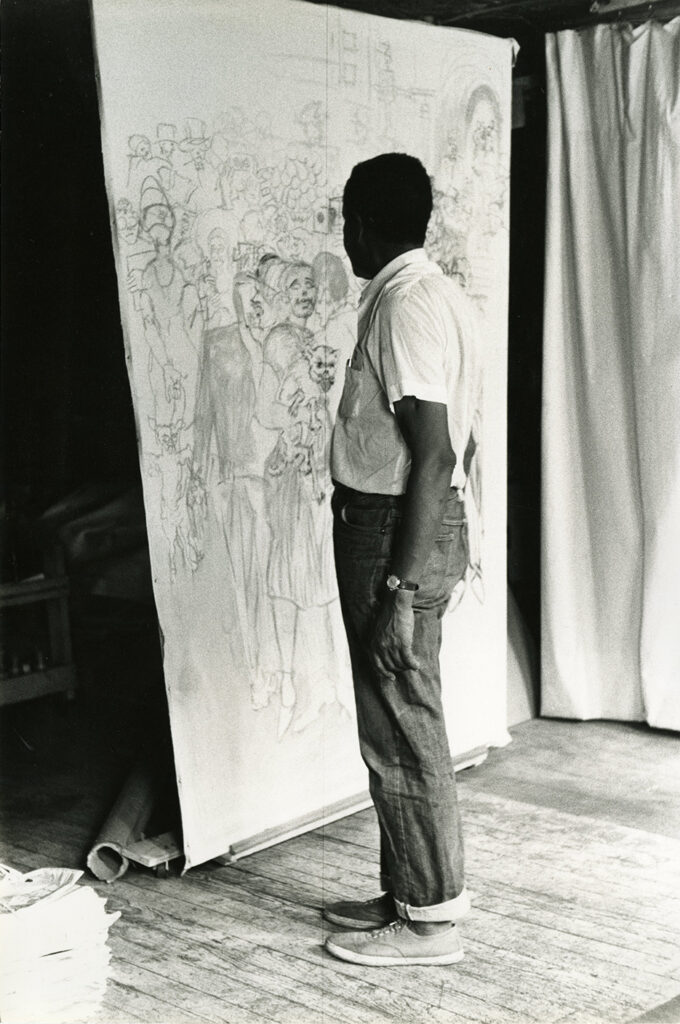 The art of Knoxville-born artist Joseph Delaney is the featured display in the Special Collections Reading Room, first floor of Hodges Library. The exhibit includes figure studies from a Delaney sketchbook, photographs of the artist, exhibit catalogs, and published examples of Delaney's work. Most materials are from the Manuscripts collections held by UT's Betsey B. Creekmore Special Collections and University Archives.
The Special Collections Reading Room (121 Hodges Library) is open Monday through Friday, 9 a.m. to 5 p.m.
Joseph Delaney (1904–1991) was one of ten children born to the Reverend and Mrs. Samuel Delaney of Knoxville, Tennessee. Joseph and his brother Beauford Delaney exhibited strong interest in drawing from childhood. Joseph left home at 18, traveling around the Midwest and taking odd jobs before joining the Illinois National Guard. In 1930, he joined his brother Beauford in New York City, enrolling in the Art Students League, where he studied with Thomas Hart Benton and anatomist George Bridgeman. During the Great Depression, Joseph was employed by the WPA (Works Progress Administration) Artists Project for numerous endeavors — for instance working on the "Story of the Recorded Word" mural in the New York Public Library. He exhibited at the inaugural Washington Square Outdoor Art Exhibit in 1931 and continued as a sketch artist at this venue for 40 years. He created drawings of many well-known visitors such as Eartha Kitt and Eleanor Roosevelt.
Influenced by Thomas Hart Benton and the philosophy of the Art Students League, Joseph developed a lifelong commitment to painting the American scene. He was more interested in figurative art than in following the aesthetic movements of day. In this he differed from his brother Beauford, a member of the Harlem Renaissance who helped revolutionize the art of the 20th century through abstract and expressionist painting. Inspired by New York street life, Joseph cultivated a distinct artistic style of canvases crowded with bodies and city scenes full of movement and expression.
Joseph Delaney returned to Knoxville in 1986 to become an artist in residence at UT's School of Art, where he taught until his death in 1991. He was an avid participant in figure life drawing sessions offered at the School of Art and was passionate about sharing with students his love for observational drawing. His estate funded the Joseph Delaney Art Scholarship Fund to support aspiring student artists who are majoring in art at UT.
The UT Libraries also holds a significant collection of materials relating to Joseph's brother Beauford. In 2022, the UT Libraries acquired Beauford Delaney's personal archive of correspondence, sketchbooks, and journals — thus returning this prized collection to the artist's hometown.
Other local cultural heritage institutions also hold important collections related to the two brothers: UT's Ewing Gallery of Art, the Knoxville Museum of Art, and the Beck Cultural Exchange Center. UT Libraries is collaborating with these local partners to celebrate the legacy of the Delaney family and to make Knoxville a global center for the study of Joseph and Beauford Delaney.