Evolution of Smokey Mascot Through the Years
The costumed human who portrays the Vols' beloved canine mascot at sports events has undergone many makeovers over the years. Smokey's earliest human namesakes certainly looked nothing like a Bluetick Coonhound!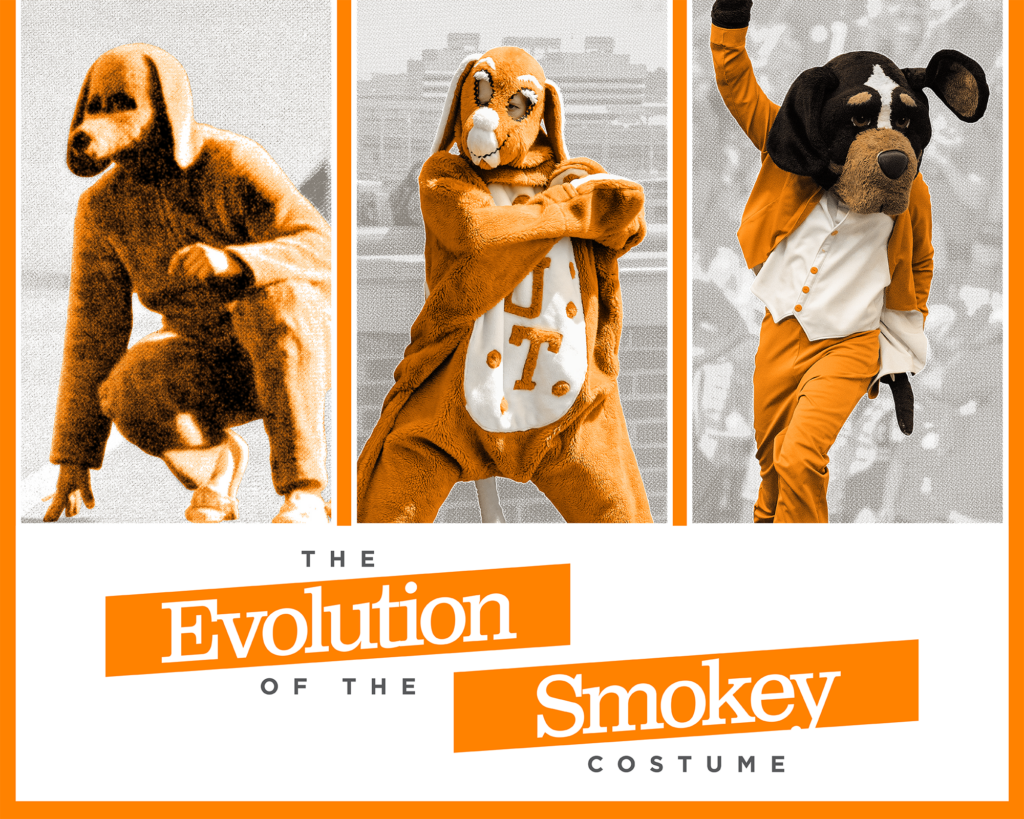 The canine Smokey himself joined the team in 1953. After some deliberation, the UT Pep Club settled on a hound as the most appropriate mascot for the Volunteers — narrowly besting the Tennessee Walking Horse. The Pep Club staged a halftime contest at the first game of the season, and contenders vied for the crowd's applause. Brooks Blue Smokey was the last contestant to take the 50-yard line. When his name was called, he barked. The crowd cheered, and Smokey threw his head back and howled. UT had its mascot!
Everyone loves the real Smokey, but the fans have been well entertained by the antics of the costumed mascot.
The earliest — unofficial — costumed mascots appeared in the late 1960s. They were attired in homemade tan jumpsuits, sometimes featuring a lolling tongue.
The first official costumed Smokey, in the 1970s, was portrayed by Nancy Nelson Wyszynski, daughter of legendary sportscaster Lindsey Nelson. For most of the '70s and '80s, the mascot wore a baggy orange-and-white jumpsuit with long ears, which some fans suggested looked more like a rabbit than a hound. One iteration of the baggy orange-and-white jumpsuit is preserved in the University Archives.
A somewhat more realistic dog costume, with blue body and grey head and gloves, was unveiled at the 1982 UT–Duke game. But it was not popular with the fans and was quickly retired in favor of the orange-and-white Smokey.
The first modern Smokey debuted in 1988 — a professionally produced costume with a sculpted head and black, white, and brown coloring more appropriate to the Bluetick Coonhound breed.
In an interesting sidenote, in 1999 some Auburn fans stole the Smokey costume from the apartment of the mascot's human impersonator while he was at dinner. The theft made the national news. Six months later, thanks to a tip from an Auburn student, the mascot outfit was recovered.
The above details were drawn from documents in the Betsey B. Creekmore Special Collections and University Archives. Some facts are hazy and can be gleaned only from images in old yearbooks. Fans themselves can browse more than 100 years of Volunteer Yearbooks online in the UT Libraries' Digital Collections.
To learn more about the history of the mascot, consult the Volopedia, the online encyclopedia of UT history and traditions.