FYS 100 Students Invited to Submit "Station Eleven" Essays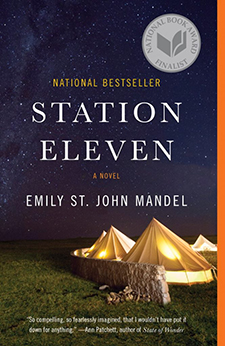 Want to see your work in print? The UT Libraries invites FYS 100 students to submit the assignments they created last fall in response to Emily St. John Mandel's post-apocalyptic novel Station Eleven.
The UT Libraries is collecting essays and other creative responses to Station Eleven for a book to be published this coming fall by Newfound Press, the Libraries' online imprint. The Libraries welcomes all responses that can be represented in a printed publication — essays, poems, works of art, even humor. The call for creative responses is open to all UT students.
During the fall semester of 2017, Station Eleven was the focus of UT's Life of the Mind freshman reading program, as well as Knoxville's Big Read. Hundreds of Knoxville citizens and thousands of UT students read and discussed the novel. The UT Libraries' book will commemorate their responses and continue the conversation.
This is not the UT Libraries' first such publishing venture. Last year, the Libraries published a book of essays in response to Knoxville's Big Read of Ernest Gaines's book A Lesson Before Dying.
The copy deadline for submissions to the Libraries' Station Eleven book is May 25, 2018. So, dig out that assignment and send it in today!
Submissions and inquiries should be directed to Robin Bedenbaugh, coordinator of marketing and communication, University of Tennessee Libraries, at rbedenbaugh@utk.edu.