UT Libraries to Host National Exhibit on Mental Health Care and Custody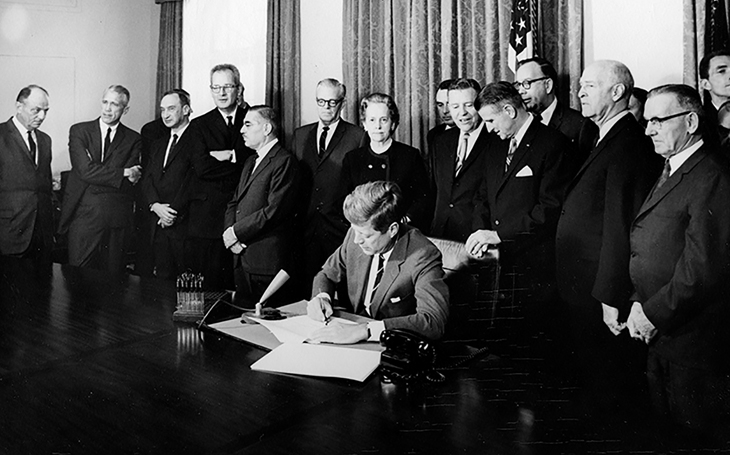 A national exhibition examining the nation's past responses to mental health and current approaches to care will be on display at UT Libraries this fall.
The National Library of Medicine's Care and Custody: Past Responses to Mental Health exhibit will be in the Jack E. Reese Galleria on the first floor of Hodges Library from October 23 to December 2.
The traveling exhibit provides a historical overview of how mental health policies have evolved from custodial forms of treatment such as commitments to asylums and mass incarcerations to more inclusive approaches aimed at protecting the rights of those with mental health conditions. The exhibit also highlights how physicians, advocates, families, and government agencies have contributed to shaping mental health policies.
UT Libraries' goal for hosting the traveling exhibition is to spark conversations surrounding mental health and effective coping strategies among UT students, faculty, staff, and community members.
A book display featuring related reads on mental health will be viewable on the second floor of Hodges Library.
UT Libraries was selected as a location for the traveling exhibition through the efforts of librarians Melanie Dixson, Niki Cobb, Calantha Tillotson, and Paris Whalon.
As part of the UT exhibition, three events will be held in partnership with campus and community partners:
Understanding Black Mental Health. The event, in collaboration with the Beck Cultural Exchange Center, will explore and support mental health concerns among the Black community in the Knoxville area. It will feature guest speakers, vendors, and free health screenings. The event will be held 5:30-7:30 p.m. on Thursday, November 9, at the Beck Center, 1927 Dandridge Avenue, Knoxville.
All Around the World Coffeehouse—Mental Health Edition. The event, a partnership with the UT International House, will center on UT students and scholars. Its primary aim is to illuminate the diverse cultural perspectives on mental health awareness. While mental health remains a sensitive subject in numerous regions worldwide, this event seeks to encourage dialogue and the exploration of available local resources in a safe space over refreshments. The event will be held 1-3 p.m. on Wednesday, November 15, on the first floor galleria at UT's Hodges Library.
Queer Conversations on Mental Health. The event will foster communication between attendees and panelists whose identities span the LGBTQIA+ spectrum. Panelists will discuss their experiences as mental health professionals working to support the LGBTQIA+ community. The audience will break into small groups to speak with student discussion leaders, allowing for more personalized communication. The event will be held 4 to 6 p.m. on Tuesday, November 28, in the rooms 102–104 of the Frieson Black Cultural Center, 1800 Melrose Avenue, Knoxville.
The National Library of Medicine produced the exhibition and companion website.