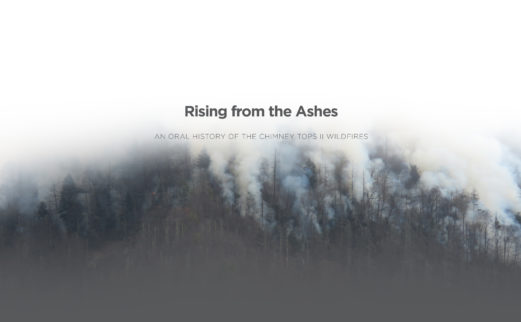 National Endowment for the Arts Will Fund Wildfire Recovery Project
The National Endowment for the Arts will fund a project intended to promote community healing from the devastating impact of the 2016 Chimney Tops II Wildfires. A $75,000 grant from NEA's Our Town program will fund Wildfire Recovery through Art and Public Memory, a project of the University of Tennessee Libraries, the City of Gatlinburg, and the Anna Porter Public Library. Works of art inspired by experiences of the disastrous wildfires are central to the project.
In the last months of 2016, wildfires swept through Gatlinburg, Tennessee, the Great Smoky Mountains National Park, and portions of Sevier County. Fourteen people died in the tragedy, and mountain communities were devastated.
Shortly after that tragic event, the Anna Porter Public Library, the City of Gatlinburg, and the UT Libraries began collecting oral histories from individuals affected by the wildfires. Those firsthand accounts are being preserved in the UT Libraries' archives as a lasting record of the community's experience of the wildfires.
"The oral histories will serve as a primary archive of these events by recording the stories of those who experienced the wildfires or were impacted by them," said UT Dean of Libraries Steve Smith. "The artwork funded by this grant will further document this history as well as offer additional interpretation, understanding, and appreciation for current and future generations."
The project will commission renowned artists Charlie Daniel, Marshall Ramsey, and Paige Braddock to create editorial cartoons and graphic non-fiction artwork inspired by the oral histories. The artists and the project team also will produce virtual programming such as arts workshops, screenings of video-recorded oral histories, and online forums to engage the community in the use of the oral history collection to inspire community art. Artwork created through the project will be exhibited through new digital exhibitions made available to the public.
Initially, all activities will take place virtually through online programming due to the COVID-19 emergency.
"These awards demonstrate the resilience of the arts in America, showcasing not only the creativity of their arts projects but the organizations' agility in the face of a national health crisis," said Mary Anne Carter, chairman of the National Endowment for the Arts. "We celebrate organizations like the University of Tennessee Libraries for providing opportunities for learning and engagement through the arts in these times."
NEA's Our Town grants program supports projects that integrate arts, culture, and design into local strategies for strengthening communities. The award to the UT Libraries is one of 51 Our Town grants approved nationwide.
Steve Smith is principal investigator on the grant project, and Casey Kaufman is project manager. Other members of the project team are UT Libraries faculty members Jennifer Beals, Holly Mercer, Laura Romans, and Ken Wise.