Event: Title IX — Impact on UT and Beyond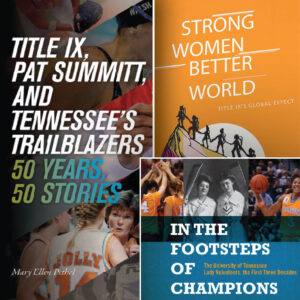 The University of Tennessee Press invites you to attend a panel discussion in celebration of Title IX's 50th anniversary on November 10 at 5:30 p.m. EST in the Lindsay Young Auditorium at the John C. Hodges Library. Panelists will discuss Title IX's impact on the university and beyond.
Ashley Blamey, Title IX coordinator for the University of Tennessee, will serve as moderator.
Panelists include:
Mary Ellen Pethel, author of Title IX, Pat Summitt, and Tennessee's Trailblazers: 50 Years, 50 Stories. Pethel introduces readers to past and present pioneers instrumental to the success of women's athletics across the state and nation. Through vibrant profiles, Pethel celebrates the lives and careers of household names like Pat Summitt and Candace Parker, as well as equally important forerunners such as Ann Furrow and Teresa Phillips. Through their lived experiences, these fifty individuals laid the foundation for athletic excellence in Tennessee, which in turn shaped the national landscape for women's sports. The book also provides readers with a fuller understanding of Title IX, as well as a concise history of women's athletics in the pre– and post–Title IX eras.
Sarah Hillyer (PhD '10), director of the University of Tennessee's Center for Sport, Peace, and Society (CSPS). Strong Women, Better World: Title IX's Global Effect celebrates the global superheroes who use the potent mix of sport and education to kick down social, cultural, or political barriers and build stronger, more equitable communities. The book highlights nine members and alumnae of the Global Sports Mentoring Program (GSMP) Sisterhood, an award-winning sports diplomacy and mentorship exchange program implemented by CSPS in partnership with the U.S. Department of State and espnW.
Debby Schriver, author of In the Footsteps of Champions: The University of Tennessee Lady Volunteers, the First Three Decades. This book captures the enthusiasm, determination, and vision of those who created the foundations for this leading women's athletic program. Student-athletes, coaches, fans, faculty, and staff share their memories of the years prior to Title IX legislation, the first years of the program's development as a free-standing department and the strong presence that the Lady Volunteers program has today.
We look forward to seeing you.
Location:
Lindsay Young Auditorium
1st Floor
John C. Hodges Library
1015 Volunteer Blvd.
Knoxville, TN 37996
Parking:
Parking information can be found at https://parking.utk.edu/.
RSVP:
Please RSVP by Thursday, November 10.
Questions:
For questions please contact the University of Tennessee Press at utpress@utk.edu or 865-974-3321.