Nikki Giovanni: 2018 Wilma Dykeman Stokely Memorial Lecture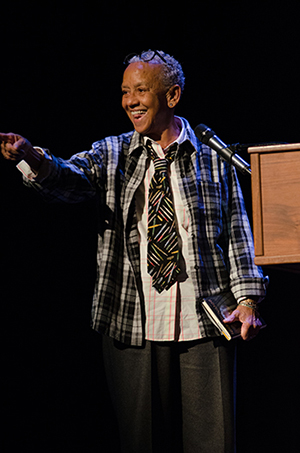 Poet Nikki Giovanni can be profane, irreverent, and risqué — while delivering a sincere and loving message.
The renowned poet and activist spoke at the Bijou Theatre on April 5. Her presentation was the 2018 Wilma Dykeman Stokely Memorial Lecture, sponsored by the Library Society of the University of Tennessee and the Friends of the Knox County Public Library.
Giovanni is the author of 28 books, including three bestsellers, and the recipient of numerous awards and honors that include a Langston Hughes Medal for Outstanding Poetry, seven NAACP Image Awards, and the first Rosa Parks Woman of Courage Award.

The evening began with the conferral of yet another honor. Knox County Commissioner Evelyn Gill read a proclamation on behalf of Knox County Mayor Tim Burchett, recognizing Giovanni for her "esteemed accomplishments and success as an American poet, activist, and educator" and declaring that April 5, 2018, "will forever be Nikki Giovanni's Day."
Maggie Carini, president of the Knox County friends group, introduced the poet and promised, in addition to poetry, "an intimate, affecting, and illuminating look at her personal history and the mysteries of her own heart." And Nikki Giovanni delivered.
Giovanni read half a dozen poems and prefaced each poem with a candid digression on subjects that ranged over the history of civil rights, the origins of the Delta Sigma Theta sorority, her father's abusive relationship with her mother, and much more.
Giovanni, a native Knoxvillian, introduced her poem "Tennessean by Birth" by reminding us that, because Tennessee had ratified the Fourteenth Amendment, it was the only former Confederate state not put under military control during Reconstruction. "Here in Knoxville, these are great people. These are people who stood up. I'm not here to give a lecture on slavery . . . . I just want to remind you that there was a greatness in you."
She challenged the audience to fulfill the debt each of us owes to pioneering civil rights activists. Noting the brave example of Fannie Lou Hamer, Giovanni enjoined the audience, "Somebody paid a price for segregation. . . . And I say to you, the youngsters in this room, that you have to be registered to vote, and you have to vote, because Ms. Hamer took a terrible beating to make sure that that happened."
She urged us to be open and inclusive and lauded the magnanimity of black women, suggesting that they should be our ambassadors to space. A joke about procreating with aliens became a parable about love: "What I like about black women is that, whatever it is that we birth, we will name it and we will love it. And the world needs to learn from black women that that's what you do with that life that's around you: you name it and you love it." She followed this preamble with a reading of "When God Made Mountains."
Giovanni does not shy from recounting intimate personal experiences that inform her poetry. She prefaced a reading of "I Married My Mother" with a very personal narrative of finally bringing her abusive father to heel. Nor does she shy from political parody. Her prescription for making schools safe from gun violence was — rather than giving teachers guns — to have everyone take their clothes off before entering the classroom!
Her presentation received a rousing reception from the hometown crowd.