Pendergrass Library reopens July 26
During the summer, Pendergrass Library has been closed to allow installation of a fire-preventive sprinkler system. Starting Monday, July 26, 2021, Pendergrass will again be open to the UT community. For the remainder of the summer, Pendergrass will be open Monday – Friday, 8am – 6pm.
Services resuming on July 26:
Faculty, staff, and students will be able to request physical items or PDF scans from Pendergrass's collection. Want a book from the Hodges or DeVine library? Request items for pickup at Pendergrass Library.
Specialty printing, such as 3D and poster printing. Request a print on the Libraries' Printing page.
Need a laptop, phone charger, or other piece of technology? Visit the Pendergrass Public Services desk and check out all the different technology available to you.
How to get to Pendergrass Library:
At the intersection of River Drive and Joe Johnson Drive, by the Brehm Animal Science building, take the crosswalk onto River Drive.
Past the construction of the Teaching and Learning Center, use the walkway between Pendergrass Library and the College of Veterinary Medicine.
Passing through the gate, the entrance to Pendergrass's foyer will be on the left.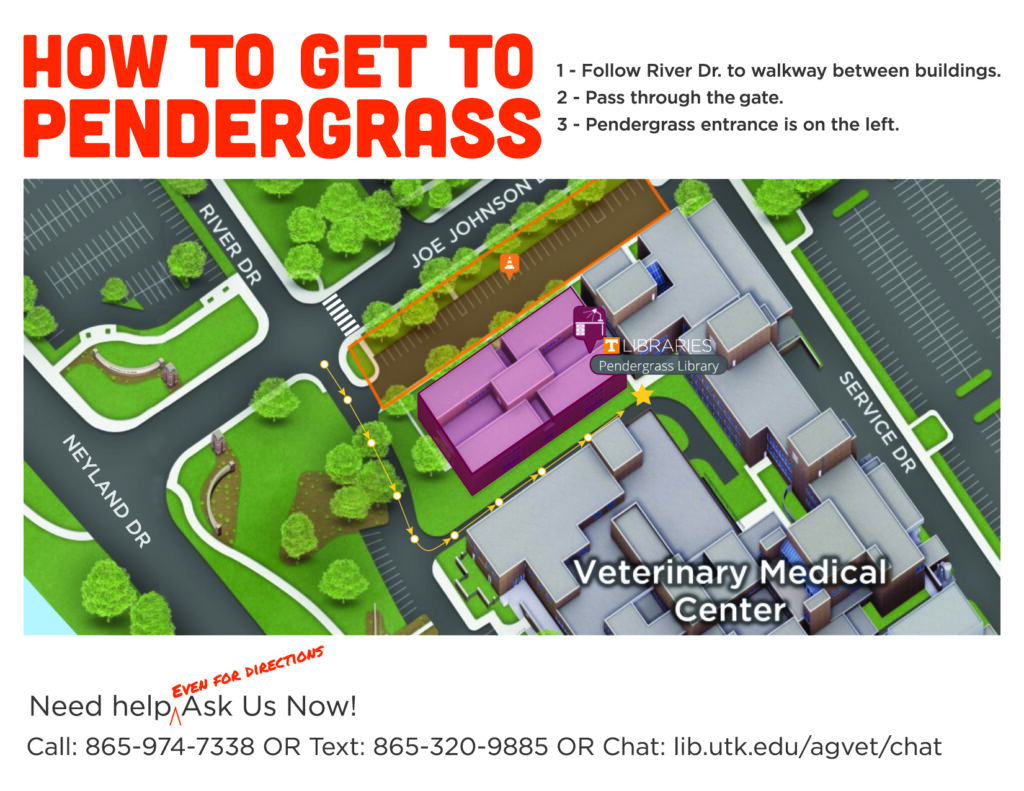 Want more information? Contact us!
Email: agvetlib@utk.edu
Chat with us
Call: 865-974-7338
Text: 865-320-9885